Traders Flock to LEND Ahead of Its 100:1 Split to AAVE: Price Up 20%
Demand for LEND has surged dramatically over the last week as the token undergoes a rebranding.
Aave, the non-custodial "DeFi" protocol, earlier launched its Aave Improvement Proposal (AIP1) to allow community consent over the migration from its governance token LEND to its rebranded avatar AAVE. In retrospect, the switchover attempted to take people's opinions on the new changes proposed to Aave's protocol existing economic model.
Aave Governance is officially on mainnet, giving the decisional power to the community! Now it's time to vote on the very first Aave Improvement Proposal (AIP) for the token migration from $LEND to $AAVE.

Thread on how to vote⬇️

Blog post for details: https://t.co/Z09ajBmb2Y

— Aave (@AaveAave) September 25, 2020
The modification introduced new Safety Incentives that would enable users to earn income by staking AAVE tokens in a reserve via "Safety Module." For that, users would need to give up their LEND holdings. They will receive AAVE tokens instead at an exchange rate of 100 LEND per AAVE.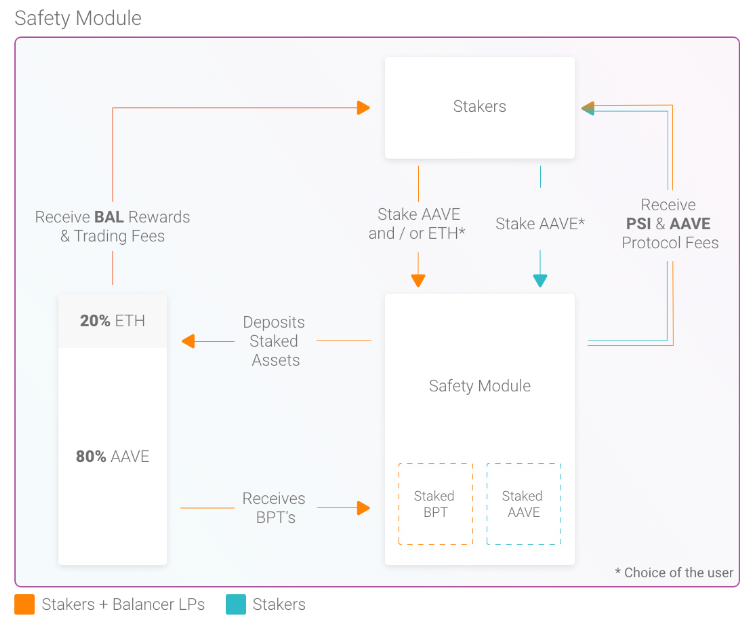 Aave Safety Module flowchart
The proposal also promised an additional 400 AAVE in rewards every day when taking the 100 LEND > 1 AAVE swap into account.
"AAVE holders will be incentivized to backstop the protocol from shortfall by staking to the Safety Module," explained Matt Kaye, the managing partner at Blockhead Capital in California. "The SM includes a builtin backstop mechanism to prevent the excess flow of AAVE into the open market as not to increase AAVE sell pressure."
The AIP1 went through unharmed on Thursday with the majority "YAE." The team announced that it would release more information about the migration on Friday.
The voting period for AIP1 to migrate from $LEND ➡️ $AAVE has ended, with an overwhelming 'YAE'

You can track the countdown to the migration start here: https://t.co/noc4D7wzmG

We will release instructions for migration and staking on Friday, and we are here to help you! https://t.co/xizn3JcPB6 pic.twitter.com/gwrsu3V6lX

— Aave (@AaveAave) October 1, 2020
LEND Surges
Meanwhile, the LEND/USD exchange rate jumped by 8.79 percent in the last 24 hours due to the migration hype. That brought the pair's total rebound up by almost 20 percent, with a session high near $0.6.
LEND performance amid the protocol upgrade hype. Source: TradingView.com
The surge appeared to have come from traders' inclination to hold AAVE. At first, it has to do with the rewards. At the same time, AIP1's commitment to add adds a 3M token Aave Reserve to a community governed treasury further increased the appeal of LEND among serious stakers.
LEND could surge towards its 50-day moving average (red) as it keeps up with the token migration hype. A successful breakout, on the other hand, would confirm $0.65 as its next upside target.
"A consolidation phase," said an analyst, "will produce several strong entry opportunities in the coming weeks, possibly months, before LEND gets going on its next leg up."
He said the LEND/USD could surge another 20,000 again on Aave's credibility as an emerging decentralized finance project.